The compact electric boat for higher demands.
With seating for five and a sunbed at the stern, it's ideal for daily use or as a base for quick trips or weekend tours.


Starting at: EUR 79.200.–
(Price incl. VAT.)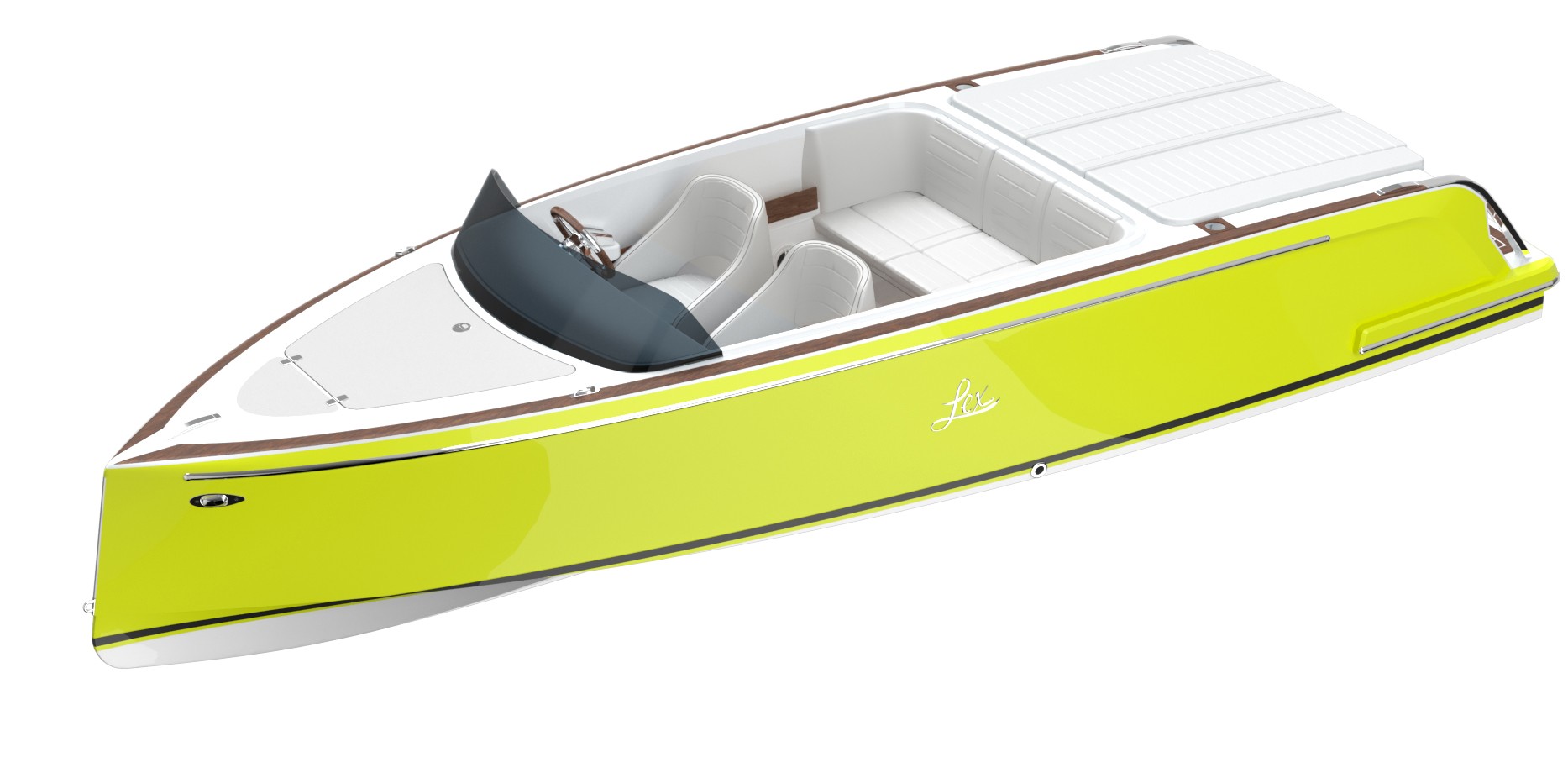 The LEX610 is a technically state-of-the art modern motorboat that is simultaneously a magnificent recollection of the yacht forms from the first half of the 20th century.
- German Design Award 2016 (Excellent Product Design)

Sunbed surface
1.5 x 1.2 m
When it comes to electric propulsion, the majority of shipyards take the combustion engines out of their existing boats and replace them with an electric system. We designed the LEX610 with electric propulsion in mind.
- Christian Lex (Founder & Engineer)
From the very beginning, achieving a maximum of comfort and functionality guided the boat's entire design process.
Personalized in every detail.
We can customise numerous parts completely according to your individual wishes and create your unique vision - with your choice from a wide variety of materials and lettering.
During fast curves, the sporty LEX lays way back and pulls cleanly around the corner without ventilating, breaking out or abrupt slamming.
⤏
Through the efficient energy conversion of the electric engine, a high torque moment is achieved at the first revolution. Combined with our lightweight construction, a quick acceleration is guaranteed.
⤳
With a reduced slant and ease of steering the hull easily turns in circles and curves.
⤞
We develop the essential battery capacity for any setting, cruises or destinations. This means that the matter of "range" is no longer a concern for you.
The electric motor from our partner, Piktronik, provides full thrust for your LEX from the very first second. No matter whether 4.0 KW is enough for you, or if you want to really let it rip with 60.0 KW.
Everything's possible Onboard.
Upon manufacture, your LEX has everything it needs to delight you with a high level of comfort and smooth sailing. With our high-end interior lines Elegance and Luxury you can extend the style according to your taste.
Basis
Hull and deck laminated by a vacuum infusion with reinforcements

Waterline coloured with gelcoat (depending on hull colour)

Interior shell sealed with top coat

Double-sided teak gunwale railing

Stainless steel skirting around the boat

Stainless steel bow cover

Stainless steel skirting around the bathing platform

Self-draining cockpit with two drains 

Storage lateral to the cockpit, under the rear bench, and in the bow

Tinted windscreen

Teak flooring in the cockpit and on the swimming platform

Headlights in the bow

12 V E-panel with automatic circuit breaker

3 position lights (red, green, and white)

1 automatic bilge pump

Cushion set, 2 adjustable chairs

White upholstery with black stitching

Stainless steel folding swimming ladder

Handrails on the rear and swimming handle

Gasspring for the engine compartment box

Hold up spring for the bow storage area

Cup holder

4 adjustable clamps, U-bolt

CE owners handbook
Elegance Line
Includes the entire "Basic Configuration"

Cockpit and sunbed cover

Fusion Marine Audio, two speakers, and Bluetooth

Antifouling with osmosis primer coat

Bimini Top

Cockpit table

White underwater lights

Starter Set Classic
Luxury Line
Includes the entire "Elegance Line"

Special colour options for the hull and deck

Special colour options for the upholstery and stitching

Special tinting colour options for the windscreen

Wireless mobile phone charger

LED floor lighting in the cockpit and bathing platform

Fusion marine audio, four speakers, marine amplifier, and Bluetooth

Five colours of underwater lights

Refrigerated drawer in the cockpit

Starter kit including design selection